Cinema program "Fright Night" in Szczecin
No showtimes for movie "Fright Night" for today
Choose other date from the calendar above.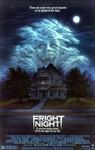 Original title:
Fright Night
Runtime:
106 min.
Production:
2011-09-02 , 2011
Category:
comedy
/
horror
Release Date:
2 September 2011
Distribution:
Forum Film
Directed by:
Craig Gillespie
Cast:
Colin Farrell
,
Anton Yelchin
,
David Tennant
,
Christopher Mintz-Plasse
Życie nastoletniego Charliego Brewstera (Anton Yelchin) w końcu układa się tak jak trzeba: jest popularny i umawia się z najfajniejszą dziewczyną w szkole. Problemy pojawiają się z chwilą gdy do domu obok wprowadza się Jerry (Colin Farrell) – z pozoru świetny facet, ale jest w nim coś niepokojącego i tylko Charlie zdaje się to zauważać. Pozostali - wliczając w to matkę Charliego (Toni
Collette) – nie dostrzegają odmienności nowego sąsiada. Po wnikliwych obserwacjach sąsiada nastolatek dochodzi do jedynego słusznego wniosku – Jerry jest wampirem, a Charlie na własną rękę musi pozbyć się potwora żerującego w jego dzielnicy.
Movie trailer: Fright Night