Cinema program "The Killing of a Sacred Deer" in Szczecin
No showtimes for movie "The Killing of a Sacred Deer" for today
Choose other date from the calendar above.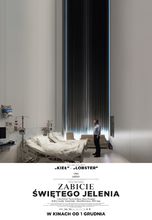 Original title:
The Killing of a Sacred Deer
Runtime:
121 min.
Production:
Wlk. Brytania/Irlandia , 2017
Category:
drama
/
horror
/
mystery
Release Date:
1 December 2017
Distribution:
Monolith
Directed by:
Yorgos Lanthimos
Cast:
Alicia Silverstone
,
Nicole Kidman
,
Colin Farrell
New film of one of the most original, controversial and talented contemporary filmmakers, creators of "KIEŁ" and "LOBSTER" films (OSCARA® nominee for best film).
Colin Farrell, Nicole Kidman, and Alicia Silverstone in the thrilling story of a man facing an unimaginably difficult choice. No matter what decision he makes, he will become a tragic person in his own family. And all because of a teenage boy who had been like him for so long.
Full of tension on the border of madness and claustrophobic sense of danger a dark thriller with elements of a satirical sense of humor.

Movie trailer: The Killing of a Sacred Deer