Cinema program "The Three Musketeers: D'Artagnan" in Szczecin
No showtimes for movie "The Three Musketeers: D'Artagnan" for today
Choose other date from the calendar above.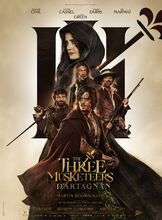 Original title:
Les trois mousquetaires: D'Artagnan
Runtime:
121 min.
Production:
Francja , 2023
Release Date:
12 May 2023
Distribution:
Monolith
Directed by:
Martin Bourboulon
Cast:
Eva Green
,
Vincent Cassel
,
Vicky Krieps
Zrealizowana z wielkim rozmachem ekranizacja jednej z najsłynniejszych powieści przygodowych w historii literatury.
Ogromny budżet, gwiazdorska obsada, wierność literackiemu oryginałowi i nowoczesne filmowe rzemiosło na najwyższym poziomie. Oto co wyróżnia najnowszą adaptację dzieła Aleksandra Dumas.
Eva Green w roli Milady na miarę jej słynnego występu w "CASINO ROYALE" i Vicky Krieps podziwiana za kreację w znakomitym " W GORSECIE" jako kobiety, które wpływają na bieg dziejów.
Miłość, przyjaźń, ojczyzna i honor. Warto o nie walczyć, warto dla nich żyć. Czasem trzeba zaryzykować wszystko.
Młody, waleczny Gaskończyk d'Artagnan w drodze do Paryża staje w obronie młodej kobiety. Pokonany przez zamaskowanych napastników cudem uchodzi z życiem. Po przybyciu do stolicy postanawia odnaleźć sprawców i wymierzyć im sprawiedliwość. Nie podejrzewa, że w ten sposób trafi w sam środek międzynarodowej intrygi zagrażającej bezpieczeństwu Francji. Wraz z nowymi przyjaciółmi, muszkieterami Atosem, Portosem i Aramisem próbuje udaremnić niebezpieczne machinacje kardynała Richelieu. Jednak to miłość do pięknej Konstancji Bonasiuex sprowadzi na niego prawdziwe niebezpieczeństwo. Konstancja jest powiernicą królowej Francji, która zostaje uwikłana w niebezpieczną grę mającą na celu wciągnięcie kraju w wyniszczającą wojnę. D'Artagnan musi stanąć do walki o bezpieczeństwo i honor swojej ukochanej oraz jej pani. W ten sposób stanie się śmiertelnym wrogiem Milady de Winter, która nie cofnie się przed niczym, by zrealizować swój podstępny plan.
Movie trailer: The Three Musketeers: D'Artagnan